Modeling Camp partners with the following hotels to bring our campers and their families discounted room rates while they are attending camp. Please call the hotels directly on the numbers listed below to make your reservation. To ensure that you get the group rate please remember to state that you are with the Modeling Camp group. Modeling Camp recommends making your reservation as early as possible as group rates are not always available as we get closer to the date. If you need any assistance in making your reservation please feel free to call our office and we would be happy to help you.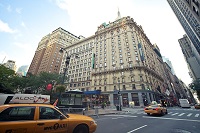 Radisson Martinique Hotel
NYC Camp Location
The Radisson Martinique Hotel is situated in the heart of Midtown Manhatten at Herald Square, right across from Macy's on 34th St.! Step out of the hotel and find the Manhattan Mall, H&M, Forever 21, Victoria's Secret, the Empire State Building and the Fashion District all within two blocks! Join us in the heart of the Fashion District for your week of fashion and fun! Reserve early as once our room block is filled the group rate will no longer be available.

Radisson Martinique Hotel
49 W. 32nd Street
New York, NY 10001
Tel: (212) 736-3800
Ask for reservations and request the Modeling Camp group rate of $245.00.

Doubletree by Hilton
Dallas Camp Location
Located just blocks away from the fashionable Galleria Mall and Brookhaven Country Club, the DoubleTree by Hilton Hotel Dallas is just a short distance away from shopping, restaurants and popular Dallas attractions.
Doubletree by Hilton
4099 Valley View Lane
Dallas, TX
(972) 385-9000
Modeling Camp group rate $93.00 USD
When reserving by phone mention the code "MOC". To reserve online Click Here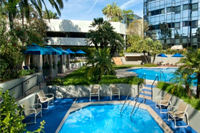 Residence Inn By Marriott
Los Angeles Camp Location
Modeling Camp Chicago campers willl enjoy a discounted group rate at the Blackstone Hotel, which is located right next door to the camp location. This 4 star hotel is just steps away from the Museum of Contemporary Photography, Grant Park, Millennium Park and Willis Tower.
Residence Inn By Marriott
1177 South Beverly Drive
Los Angeles, CA
(310)228-4152
Modeling Camp group rate $199.00 USD. To reserve online Click Here. Last day to book by is 6/13/2015.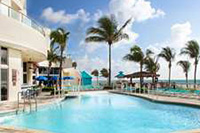 Doubletree by Hilton
Miami Camp Location
The resort is perfectly located on a wide stretch of Miami Beach, offering direct access to the Atlantic Ocean. Miami's shops, restaurants and attractions are nearby, and several restaurants and malls are within walking distance.

Doubletree by Hilton
17375 Collins Ave.
North Miami, FL
(786) 528-2500
Modeling Camp group rate $179.00 USD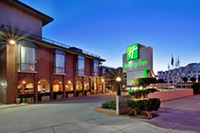 Holiday Inn Fisherman's Wharf
San Francisco Camp Location
This full service hotel is located in the famous Fisherman's Wharf area of San Francisco, just steps away from many local attractions including Giradelli Square, Alcatraz and Pier 39!

Holiday Inn Fisherman's Wharf
1300 Columbus Ave.
San Francisco, CA
(415) 771-9000
Modeling Camp group rate $208.00 USD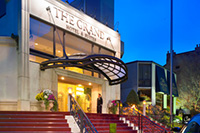 Grand Hotel & Suites
Toronto Camp Location
Located in Downtown Toronto, the Grand Hotel & Suites is just steps away from Toronto's downtown attractions and offers luxury accommodations and unsurpassed service to our campers and their families.

Grand Hotel & Suites
115 Jarvis Street
Toronto
(416)863-9000
Modeling Camp group rate $189.00 CAD